'Hidden in a Flyer' by Daniel Magdalen
on the 21st anniversary of the Chinese Communist Party's launching the persecution of the peaceful practice of Falun Gong on July 20, 1999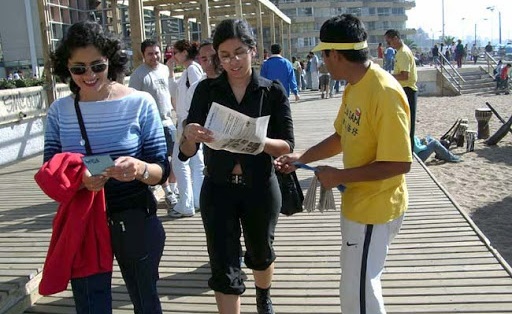 on the 21st anniversary of the Chinese Communist Party's launching the persecution of the peaceful practice of Falun Gong on July 20, 1999
Slowing down my clockwork footsteps on the night-lit pavement
From this workweek's marathon, I start to scan a flyer
Grabbed by reflex. Frowned, I grasp in pained amazement:
… Truthful, kind, forbearing minds in China counted higher
Than the System's pawns; in shock, its sickle thrashed with ire.
Parks, once vibrant sights of meditation—all deserted.
People free in faith—soon hunted down. Events grew dire.
Brief mock trials. Prisons flooded with fresh victims. Hurt, they'd
Strive to rescue others, bringing facts to light. The Earth did
Not expect the overarching smoke of lies they'd brazen…
Home: my lamp and screen turned on, I crave more truth and search it,
Reaching Bloody Harvest's field of knowledge—days to gaze in.
Midnight comes, my eyes give in; my reason, though, still tackles
This unseen side of the world… Could we unlock the shackles?
Under fury's reign, warm smiles receive the crowbar's coldness…
How to feel? When words of truth and faith get choked by falsehood,
What to say? The backbone—stretched to break, in fiendish slowness.
Though knocked down, the guiltless rise—their words march on: What walls could
Block the wind of knowledge…? Slander's dust fort slowly falls; who'd
Not take in this breeze, if minds knew how to breathe? Facts baffle
Thinking drowned in bias. Yet, our sentient nature's calls would
Wake the brain by rousing care, while numbing every cavil…
Distant, brass-like tones come through, inviting inner travel:
Paths of insight show man's toils, in vivid fields of meaning.
Views, once petty, broaden. Links of life unravel,
Walking forth in realms empathic, which are bright and greening.
As we help the helpless, in ourselves we'll feel reviving
Timeless values that unite and keep what's good yet thriving.
Daniel Magdalen is a doctoral student in the Faculty of Letters at the University of Bucharest, in Romania.
Source: classicalpoets.org