It's Official - GOTHIC is IN!
We can definitely see by the numbers that GOTHIC is in! Check out some of our newest products getting attention!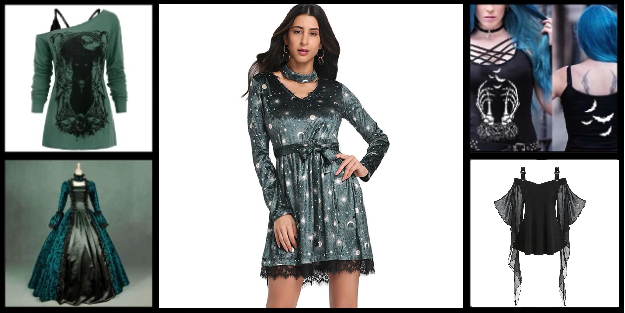 Hello my fellow HALLOWEEN lovers!
Hope all of you are enjoying the beginning of March like we are! Spring may be on the way but DARK & GOTHIC is getting the pull over pastels and flowers! We have been doing quite a bit of pinning in recent weeks (come and follow us!) and the numbers are staggering when it comes to Gothic fashion! Check out the featured image and you will see some of our newest producst getting A LOT of attention!
We are in the process of adding many more products to appease the appetite of or followers by bringing them what they want! Cool bags, tops, home decor and jewelery just to name a few! Please feel free to come and visit BOO and the crew to check out what we have going on in our neck of the spooky woods. We are also, working to bring more shoes to satisfy our customers appetite for the new, different, unique and fun styles for the warmer weather that is on the way!
We are delighted to see that this is the trending pull and we love this style and hope to surprise and fulfill the wants of our customers. BUT, if you are not finding what you want, we have just launched our "Make it FOUND" product request form so that HALLOWEEN found will live up to it's name! Now all of our visitors that are trying to find the product that they see in their brain but not on thier screen can becore a reality! Just fill out the simple form under our "Help" link on the home page and we will go to work to make sure that "IT IS FOUND" at HALLOWEEN found. Request anything you are looking for, size, color, product, or even price and we will go to work to find and bring it to you! We are here to make sure our customers get what they want. Once we find what your request is, you will be emailed to let you know that what you want is now found in "THE FIND", which is where every product we carry is available.
Well until next time, stay spooky and oh yeah, BOO says "HI!". He's been busy "finding" Halloween and all of the fun products we have available. Hope you come visit soon! Much loving fright and spook to all!
-Owner, HALLOWEEN found
By Owner, HALLOWEEN found